"​I just wanted to share a picture of our sweet Major .  We love him to the moon and back!"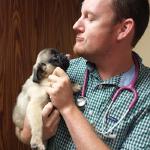 This is why we stay up many nights waiting for our puppies to arrive, worry about them constantly, pamper and care for our puppies day and night...to see the look on this little girl's face, makes it worth it all !!!

Camellia's new office help.

Past King Charles Cavaliers & Chinese Pugs